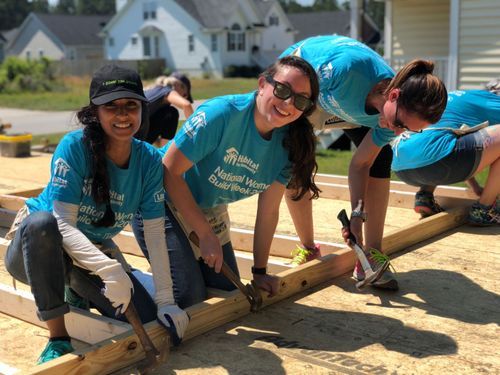 Our Vision
A world where everyone has a decent place to live.
Our Mission
Seeking to put God's love into action, East Cooper Habitat for Humanity brings people together to build homes, communities and hope.
About East Cooper Habitat for Humanity
East Cooper Habitat for Humanity serves the communities east of the Cooper River and select areas of Berkeley County in South Carolina.  Founded on January 31, 1990, we believe that having access to safe and affordable housing is a basic human right.  Therefore, while we celebrate with the 77 families that have received new homes and the over 50 families that have received critical home repairs, we know we can't stop working.
Our organization utilizes volunteer labor and donated funds, with East Cooper Home Store being our largest source of funding, to provide a "hand up", not a "hand out" to our partner families.  Our homeowners are selected based upon their need, their demonstrated ability to handle personal finances and their willingness to contribute a minimum of 350 sweat equity hours during the construction of their home.  Upon completion, the home is purchased by the homeowner using an affordable mortgage and monthly mortgage payments are directed toward future home-building efforts as they are received.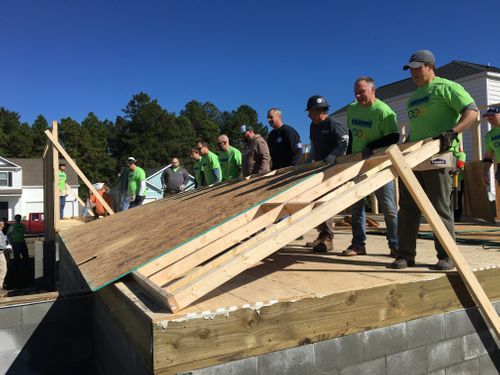 About Habitat for Humanity International
Founded in Americus, Georgia, in 1976, is a global nonprofit housing organization working in local communities across all 50 states in the U.S. and in approximately 70 countries. Habitat for Humanity has helped build, renovate and repair more than 1 million homes for more than 5 million people around the world. 
All are Welcome
East Cooper Habitat for Humanity has an open-door policy: All who believe that everyone needs a decent, affordable place to live are welcome to help with the work, regardless of race, religion, age, gender, political views or any of the other distinctions that too often divide people. In short, Habitat welcomes volunteers and supporters from all backgrounds and also serves people in need of decent housing, regardless of race or religion. As a matter of policy, Habitat for Humanity International and its affiliated organizations do not proselytize. This means that Habitat will not offer assistance on the expressed or implied condition that people must either adhere to or convert to a particular faith, or listen and respond to messaging designed to induce conversion to a particular faith.