OWN A HOME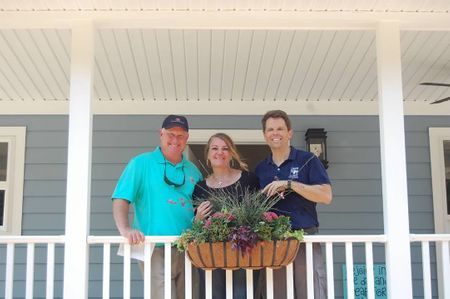 East Cooper Habitat for Humanity (ECHFH) constructs safe and reliable homes in partnership with families who are unable to qualify for a conventional mortgage.  ECHFH provides a "hand up," not a "hand out," to families.
Our partner families assist in the construction of not only their home but homes for other families.  Additionally, partner families participate in education classes to prepare them for homeownership.  In return, their efforts are rewarded with an affordable mortgage.  The purchase price is also substantially below market value because no profit is realized and a large percentage of the labor is provided by volunteers.  Monthly mortgage payments are used to help build additional Habitat homes.
The first step in becoming an East Cooper Habitat for Humanity partner family is to attend a Homeownership Application Seminar.  You can contact the ECHFH Office at (843) 881-2600 to express interest in attending. Our staff will then notify you once a seminar is scheduled.  An outline of the qualifications may be found below:
To be eligible to apply with East Cooper Habitat for Humanity, you must have a tie to the East Cooper geographic service area.  We serve Mount Pleasant, Awendaw, McClellanville, Cainhoy, Huger, Wando, Sullivan's Island, Isle of Palms and Daniel Island.  If you do not have a tie to our service area, you will want to contact the Habitat for Humanity affiliate that serves your community.
East Cooper Habitat for Humanity homeowners are selected based upon three principles:
Need for Housing: First priority will be given to families with the greatest need.  Examples of housing needs include –
                  ✅ Substandard housing (severe structural and/or mechanical defects)
                  ✅ Unsafe housing
                  ✅ Overcrowded housing
                  ✅ Cost burden housing (paying more that 30% of your income for housing)
Ability to Pay: Habitat homes are not given away; they are sold to selected families with a mortgage. As a result, the total household income must be sufficient to pay the monthly mortgage, utilities, and other debts while leaving sufficient income to meet family needs like food and clothing. Documented income must meet HUD guidelines based upon household size:
| Household Size | 1 | 2 | 3 | 4 | 5 | 6 | 7 | 8 |
| --- | --- | --- | --- | --- | --- | --- | --- | --- |
| Minimum Income | $16,350 | $18,700 | $21,330 | $25,750 | $30,170 | $34,590 | $39,010 | $43,430 |
| Maximum Income | $32,760 | $37,440 | $42,120 | $46,740 | $50,520 | $54,240 | $57,960 | $61,740 |
Willingness to partner: families must be willing to complete a minimum of 350 hours of "sweat equity" on the construction of their home and other families' homes. In addition, selected families will be required to attend homeownership education classes.
Disqualifications:
           ⛔ You must be a United States citizen or permanent resident to be eligible.
           ⛔ If you or anyone who would live in the home appear on the Sex Offender Registry, you are ineligible.
           ⛔️ If you or anyone who would live in the home has been convicted of a felony in the last five years, you are ineligible.