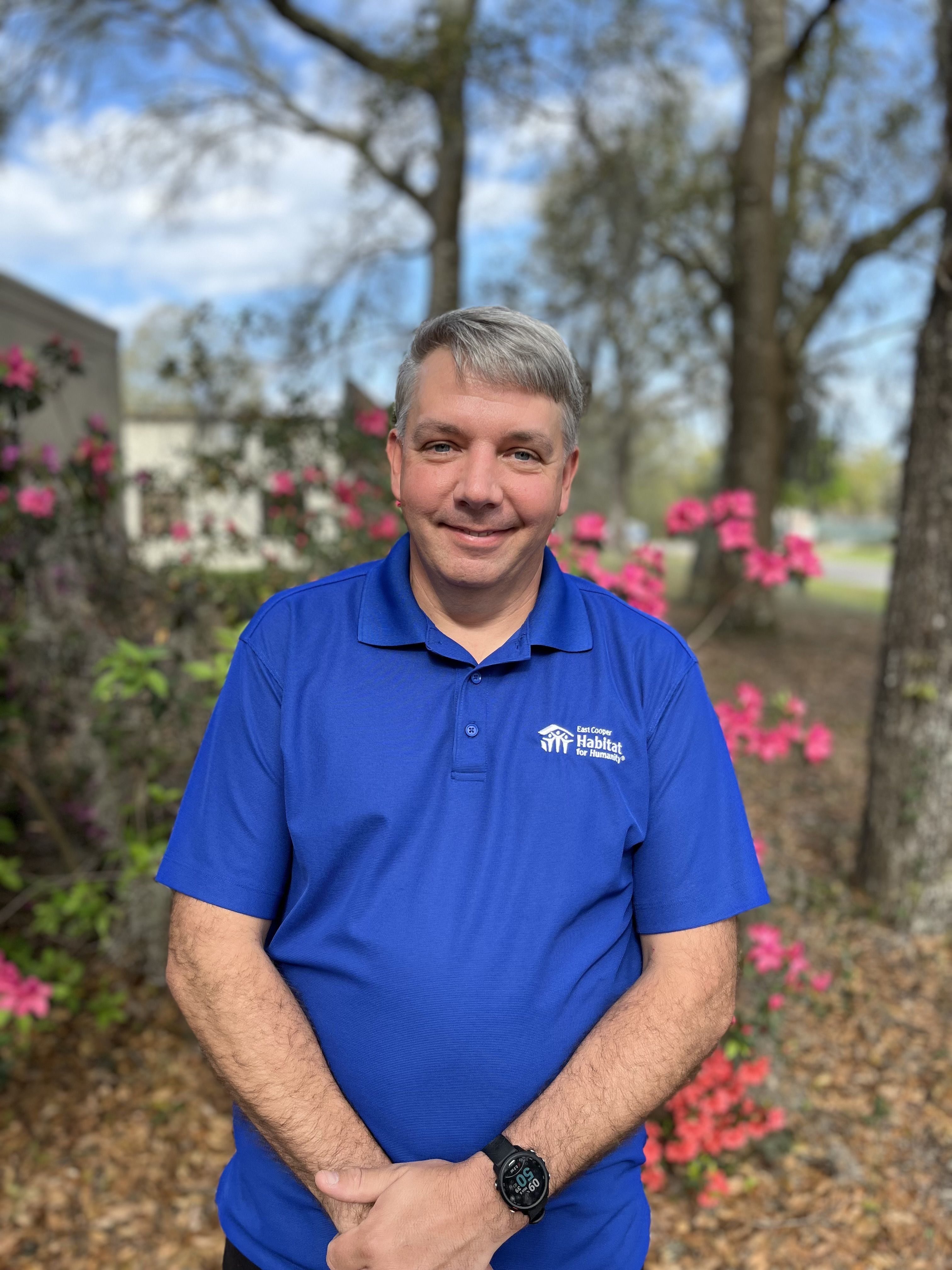 FOR IMMEDIATE RELEASE

Contact:
Gabrielle Yarborough
East Cooper Habitat for Humanity
gabrielle@eastcooperhabitat.org
www.eastcooperhabitat.org

East Cooper Habitat for Humanity Names New Executive Director

CHARLESTON (Mar. 6, 2023)— East Cooper Habitat for Humanity (ECHFH), a non-profit, non-denominational Christian housing organization has named a new Executive Director.
Kevin Brokes was unanimously approved by the East Cooper Habitat Board of Directors to become the Executive Director of the organization. With his employment effective today, Kevin is no stranger to East Cooper Habitat's work in our community as he was the organization's Construction Manager for six years before retiring from this role in 2022. While Construction Manager and under the leadership of East Cooper Habitat's outgoing Executive Director Bob Hervey, Brokes gained an exceptional amount of experience in homeowner partnerships, portfolio management, land acquisition and development, insurance and more.
Brokes brings to East Cooper Habitat extensive management experience from prior roles at various retailers including Walmart, CVS and Lowes Cineplex Entertainment. He has also had success in growing businesses including a local landscaping company that started as a hobby and grew to a six-figure in sales, multiple employee operation. It is with these career highlights, along with his passion for the organization's mission, that the East Cooper Habitat Board of Directors and staff are confident Brokes will be successful in his new role. Jeff Donaldson, Board President shared, "On behalf of the Board I am thrilled to welcome Kevin Brokes as the new Executive Director of East Cooper Habitat for Humanity. Kevin has previously served the organization in an exemplary manner in many ways and I look forward to working with him in the future. His arrival brings vision, energy, and a deep commitment to our organization and we are excited to see how he will help us grow and make a meaningful difference in the lives of those we serve." Brokes lives in Mount Pleasant with his wife and their two sons. In his spare time, he enjoys running and is the Scoutmaster of the Boy Scouts of America Scouting Troop 502.
Excited to take on this position, Brokes said, "After I hung up my construction hardhat in 2022 for retirement, I knew my involvement with East Cooper Habitat would not be over. Over the last year, I have spent many hours on our Garden Hill build site as a volunteer working alongside our two current partner families. When Bob shared with me his retirement plans, I felt the need to grow my relationship with East Cooper Habitat and I applied for the Executive Director role. While my one year of retirement was enjoyable, leading this organization into the future is truly my dream job. I have big shoes to fill as Bob made East Cooper Habitat into a successful organization over his tenure but I know that he is leaving me in a great spot to succeed. I look forward to helping more families East of the Cooper River achieve homeownership as we continue to break the cycle of poverty for many of our neighbors."
East Cooper Habitat for Humanity (ECHFH) assists families by building safe, well-constructed homes. Working in partnership with low-income families, ECHFH utilizes volunteer labor and donated funds to provide a "hand up", not a "hand out". Homeowners are chosen based on their need, demonstrated ability to handle personal finances and their willingness to contribute at least 350 hours of "sweat equity" on their home. Upon completion, Habitat homes are purchased by the homeowner with monthly payments under an affordable mortgage, and those payments are directed toward future homebuilding efforts as received.

East Cooper Habitat for Humanity is an affiliate of Habitat for Humanity International, servicing communities east of the Cooper River in Charleston County and select areas of Berkeley County in South Carolina. Visit their website at www.eastcooperhabitat.org for information on the organization.

Habitat for Humanity International is an ecumenical Christian ministry that welcomes to its work all people dedicated to the cause of eliminating poverty housing. Since 1976, Habitat has provided simple, decent and affordable shelter for more than 29 million people.

###