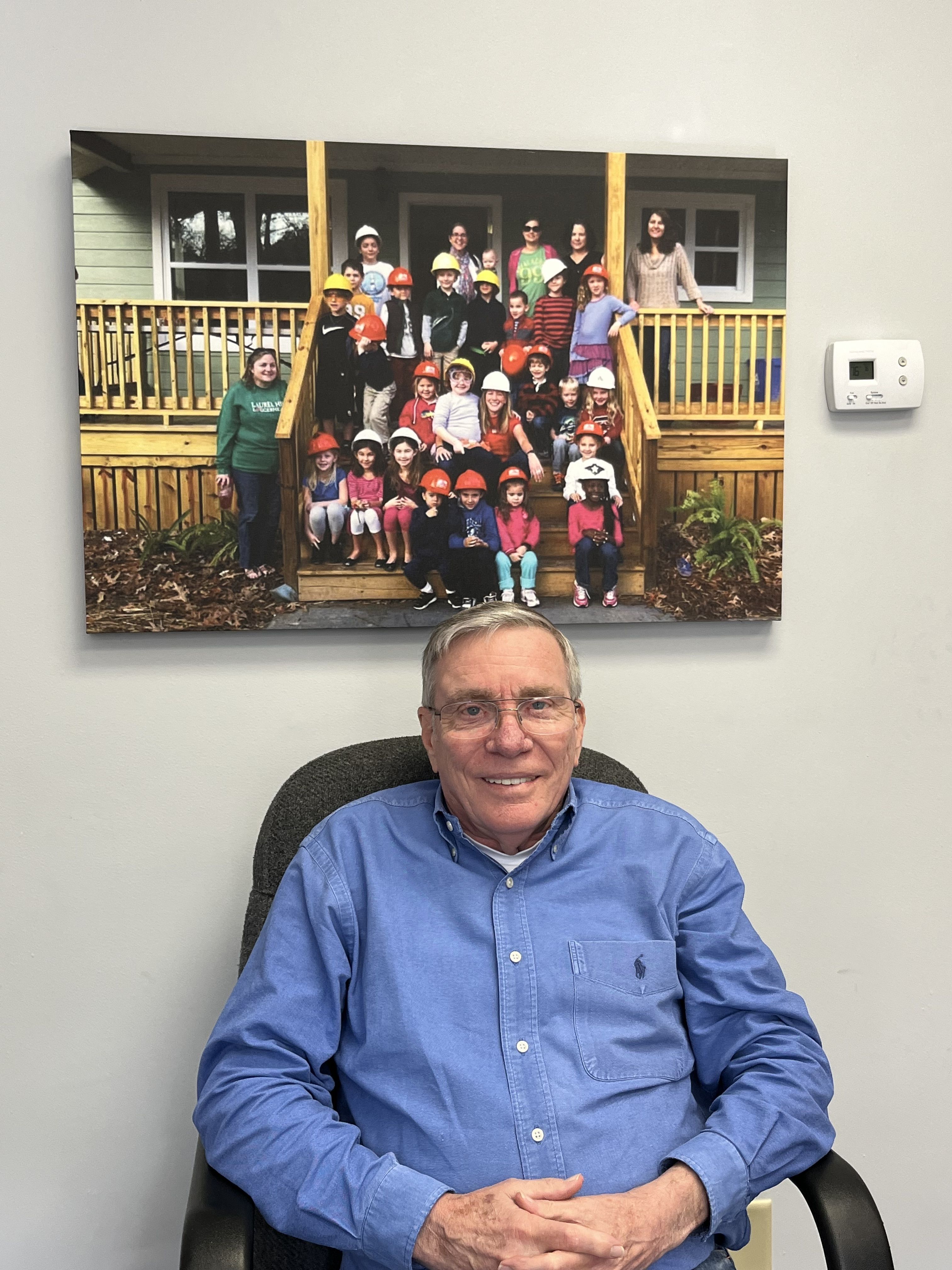 Dear Friends of East Cooper Habitat,
It is with very mixed emotions that I have decided to retire as Executive Director of East Cooper Habitat for Humanity. I had worked on the construction worksite for about four years before joining the staff at Habitat. I was overwhelmed at first to find that I needed to be somewhat of an expert on banking, loans, mortgage portfolio management, construction, land development, accounting, land acquisition, insurance, fundraising, payroll and of course human resources. That may sound like a lot and it is, but it was easier than expected for me as I always seemed to have just the right employees or board members on hand to fill the gaps in my knowledge. I've been here for just under 15 years and for every one of those years Christine Pinson has been here to keep me on track and out of trouble. Couldn't have asked for a more competent or supportive co-worker.
I also have to give credit to my Board of Directors. We have always had very successful people on our Board with very diverse opinions and outlook and yet, they have always been supportive of whatever I said had to get done. When I needed some special task completed or a volunteer for some project, they have always stepped forward to fill the void. That certainly made my job easier knowing I could always count on them. I've served with 65 board members during my time at Habitat and I have been blessed to have the mission of Habitat to be priority one for every Board member. I and East Cooper Habitat have been truly blessed by the giving people who have led this organization.
I must also express my gratitude for what this organization and its mission has afforded to me. I have certainly grown during the years of association with East Cooper Habitat. I started out as simply a volunteer like thousands of others each year. I started volunteering on Eagle Street in the Greenhill neighborhood off Mathis Ferry Road. We were starting to build the first of fourteen houses in what was called Hope Row. I enjoyed the camaraderie that developed with all the other volunteers and staff while working on that first house. But it wasn't until I went to the dedication of that house - when the new homeowner was moving in - and listened to her story of where she was coming from and what having this house meant to her and to her whole family, that I realized just how life-changing an event this house was in her life. Each family member would have their own bedroom for the first time; her children would have a quiet place to do their homework; she would have the security of knowing that her housing costs were more predictable than her rent had been; and she hoped that the house could help her family break the cycle of poverty that they had been experiencing for many generations. She also said that a little nook in her master bedroom where she had installed a desktop would be the place where she would pray every morning for her family and her community and her home. I was completely overwhelmed as I realized that we were not simply building a structure, but that lives were seriously being changed for every member of every family that worked to get a Habitat house. I was truly humbled to be part of that effort.
As I've been able to meet with homeowners – both early homeowners and more recent homeowners – I am amazed at the consistency of the stories of most of our homeowners. East Cooper Habitat for Humanity changes lives.
I also want to point out how grateful I am for our volunteers. Some have worked on our homes for years. They have been giving selflessly of their time and effort to build a home for families they don't necessarily know – and yet they show up week after week to help build. I just wish that they could all see what they are accomplishing from my perspective where year after year with family after family they are experiencing a profound difference in their living conditions. Thank you to each and every volunteer.
I also want to point out how blessed we are to have the donors who support us. As an example we have a donor couple who wanted to donate a whole house for a family. They didn't know the family but they trusted Habitat to spend their funds wisely so that it would make the largest impact possible. When people put that kind of trust in you it becomes a personal mission to be sure not a penny is wasted so that the impact of their donation can be as widespread as possible. While that kind of trust is humbling, what is even more impressive to me is that the couple wanted to remain anonymous. They wanted no public recognition of their very generous act; they only wanted the knowledge that a family now had joined the ranks of homeowners – with all the attendant benefits of home ownership such as better educational outcomes for the children; better health for all family members; short-term financial stability and long-term intergenerational financial wealth building. It is donors like this couple who provide the fuel that drives the Habitat engine.
People often say that they get much more than they give when they volunteer. I can say unequivocally that working for Habitat alongside so many giving people has blessed my life beyond measure. Thank you to all who have supported our mission.