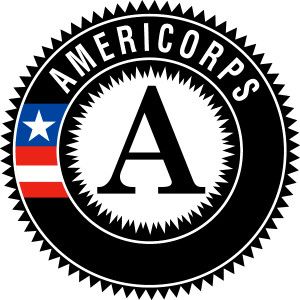 You can partner with East Cooper Habitat for Humanity and get paid to build sustainable solutions in the community, while gaining valuable hands on experience to prepare for your future.
This full-time AmeriCorps service position offers a great opportunity to make a real impact in the lives of others while building your own knowledge and skill set.
AmeriCorps National members serve the community in direct service and capacity building activities.
What will you do?
The construction crew leader plays an integral part in building and repairing homes. Lead groups of skills and unskilled volunteers and homeowner families in construction activities while maintaining a safe, efficient work environment, thus, developing and enhancing your volunteer management and construction skills.
*Typically serve Tuesday – Saturday on the build site.
*Assist with all aspects of hands-on construction tasks including, but not limited to, demolition, site prep, framing, insulation, drywall, flooring, roofing, finish carpentry and landscaping.
*Projects may include new construction, rehabilitation, critical home repair and weatherization projects.
*Lead small groups of volunteers and facilitate safe and positive experiences for everyone working on site.
*Maintain site safety by adhering to Habitat construction safety policies, modeling best practices and guidelines, volunteer education and site monitoring.
Where will you serve?
Serve, learn, lead and explore in the #1 small city to visit in the U.S! We are minutes from the beach, as well as just over the bridge from the history and excitement of Charleston. East Cooper Habitat for Humanity has hosted AmeriCorps members since 2004, and many have moved into full-time positions with Habitat for Humanity affiliates all over the country.
Our AmeriCorps members play an integral role in providing leadership on our project sites, engaging volunteers to become champions for our mission and creating new tools and systems to build capacity. We are currently on a growth and expansion program to serve more of the local community.
Benefits of AmeriCorps service
*Living allowance $15,850 for approximately 10 ½ months of service.
*Segal Education Award of $6,195, upon successful completion of service.
*Health care benefits and enrollment in Employee Assistance Plan.
*Personal and medical leave — approximately 10 days total.
*Possible forbearance or deferment of qualified student loans.
*Child care benefits, if you qualify.
*Worker's compensation insurance.
Minimum Requirements
Applicants must be a U.S. citizen, national or lawful permanent resident at least 18 or older and have a high school diploma or GED.
Preferred Qualifications
*Knowledge of, and willingness to promote, the mission and activities of Habitat for Humanity International and AmeriCorps.
*Ability to work with a diverse group of people.
*Strong verbal communication skills.
*Experience working with volunteers, teaching or group facilitation.
*Experience working as a member of a team.
*Basic experience with Microsoft Office Suite, especially Word and Excel.
*Current valid driver's license, a clean driving record and reliable transportation.
*Ability to drive large pick-up trucks (or willingness to learn)
CLICK HERE to apply today.