Sign up to volunteer!
Look over the volunteer opportunities info below and then visit our volunteer calendar to sign up!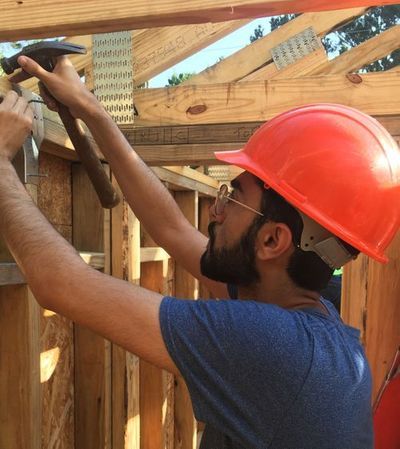 Construction
Our homes are built almost entirely by volunteers, both skilled and unskilled. Whether you are a construction pro or have never picked up a hammer in your life, we need your help.  All the equipment and safety gear you need for the day is provided and no previous experience is necessary.  You can come out and volunteer with us once or make it a recurring thing!  The only requirement is that you must be 18 years of age or older to volunteer on the build site.  We do accept volunteers that are 16 or 17 years old however they are not allowed to use power tools or climb on ladders. Orientations take place at the start of each shift. Volunteer shifts for individuals are Tuesday, Wednesday, Friday and Saturday from 8:30 a.m. - 12:30 p.m.
We are excited to share that our two recent homeowners in North Mount Pleasant have moved into their homes! We are currently doing site prep for our next three homes in the center of McClellanville, SC. We anticipate welcoming individuals and groups to this build site by mid-August. Availability for group and individual volunteering will be added to our new volunteer calendar in the coming weeks. 

East Cooper Home Store
East Cooper Home Store sells gently used furniture, appliances, building materials, supplies and more and the profits of those purchases go back into building East Cooper Habitat for Humanity homes and other local missions.
The store is always looking for volunteers for a variety of roles including: mover/loader, sorter, appliance and electrical tester, maintenance, deconstruction, tech support and other various projects throughout the store.  They accept individual and group volunteers with two shift options on Mondays through Saturdays: 9:00 a.m. - 1:00 p.m. and 1:00 p.m. - 5:00 p.m.  To learn more or to sign up, please visit the East Cooper Home Store Volunteer page or email their Volunteer Coordinator, Phyllis Gildea.